Here's the crash from another thread
______________________________________________________
The crash......wow it hurt bad,luckly we had neck collars,and harnesses on,wish I had a hanns device installed tho'
We decided to run 1 lap around the track the opposite direction than the three other laps,sight unseen.
My co-dog left early to pick up his daughtter,so I had no co-pilot.
Bluebait
stepped up and said he'd ride,I told him to let me know what was coming up next the jumps etc,he did good overall the last corner is a tight right,left and then a sweeping left to finish line.
We'll I over rotated the sweeper and did not get setup for the jump right,
but at
40+mph
there wasn't much to do but hold on
this was the launch,way to far left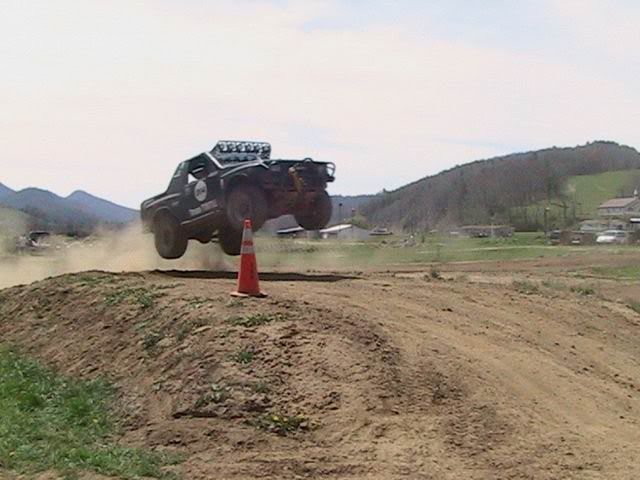 The next picture I'll get next week is awesome
we were almost 6' in the air and 25ft later after clearing the table top.............all hell broke loose..................
I came down hard on the left front into a 18" berm
I know it doesn't sound like much but
you can see where my bumper dug in on the left side and ..................
You can imagine how
verticle
we were by the impact of 12" of dirt pounded into what was
left of my headlight
............the bumper/bars etc. took all the impact no bent tubing (triangulation works)it felt like hitting a brick wall....
we went from about 40 mph to 0mph in a few inches
ouch.......
I bent the frame behind the upper a-arm mount pretty badely but what is expected,from a headon collision with terra firma.
After the launch I said"----!!!...hold on" and BANG
we have bumps and bruises from the belts and very sore necks,I'm about 90% now......