heres some more
A few updates,ended up watching way to much tv this weekend,thanks to mother nature.
It rained all day saturday,so nothing happened out side...............
Not all was lost tho'
I made my own window nets because the $20(each) ones didn't even come close to fitting and custom ones are close to $100 each.
The ones I made are strong enough to hang from the rafters,so they will keep arms etc inside the cage.No they aren't SFI rated but they will do the job.
The webbings is 1" wide and ~.09-.125 thick and is UV stable and designed to be used in food and medical feilds.
It was a freebie from work (old project) so once again, keep it green and recycle.
I went ahead and cut the 1" webbing for the window nets as I drank coffee and listened to the rain.
I layed out the pcs on a pc of wood,to keep myself straight and rightside up.
I broke out the sewing machine after momma got up (after I ate brunch)
and started to sew.
The thread I used is for outdoor use and is UV stable and 4x as thick as normal thread.
okey dokey the start of hell has begun,
wow what a PITA!! home machines don't have a deep enough throat,so I was constentally
folding and rolling the net,as I made the square stitching.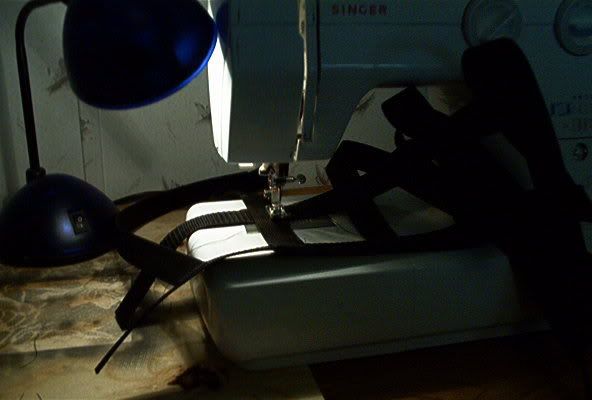 ok a few hours later and a bobbin rewind and some very suttle cussing,walla
shown with lower mounting rod installed.
ARRR!!!Maaatttteeyyy
found some pieces of eight-ish on the washer.............gonna have some shiney bling-bling somewhere on lowrider.
ok rest of the day was kinda blah,blah.....painted some on the cage.
Sunday,woke to..............errrrrrrrrrr.........rain.....bad water....bad water...
well after coffee.........it stopped raining!!!!!........now it was snowing...........
oh well,I watched sniper3, it stopped perspiring outside,so the longjohns and multi layers went on.
Dang it was cold and wet,
welded the steering shaft,adapter,extension in place.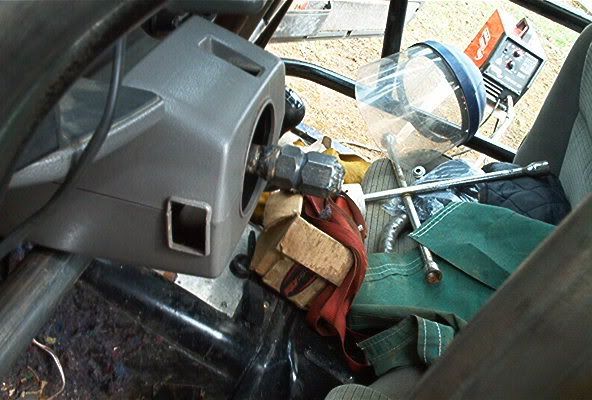 Had to loose the turn signal mount because it wouldn't fit over the adapter,and I caught my knee on it so.........sianara????????
wheelmounted
used factory wheel with quick release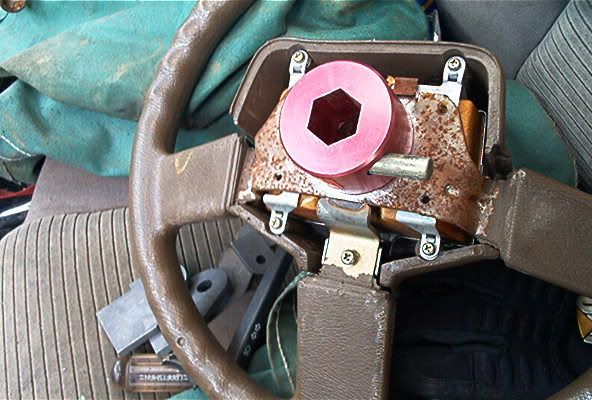 then rolled around in the mud and finally fabbed up the B-pillar mounts.
Passenger side and driverside.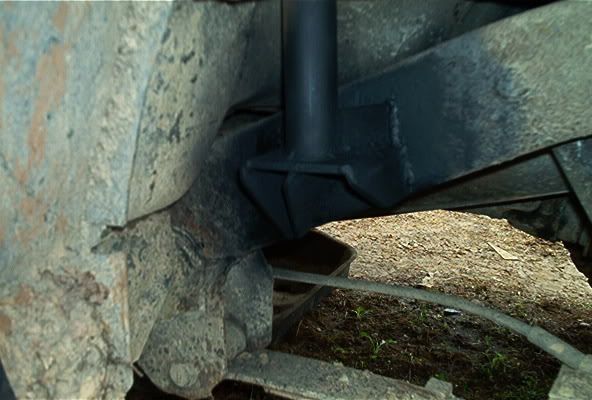 I used 1/4" plate for horizontal plates and three pcs of 3/16 to brace it.
not sure why pics are so dark,they looked good at home,sorry.
then came the rain,so inside to watch racing on tv.